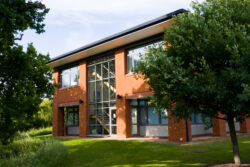 The office market in 2021, was, in almost all locations, one of the quietest for a considerable number of years. The cause of this is not difficult to identify with after it is almost solely caused by Covid with the result being that companies were unsure of what their short and medium-term office space requirements were.
With levels of staff even in their current premises being unknown month to month it was no surprise that companies were not able to plan their space needs over the next few years. On average there are usually around 160,000 sq. ft of offices disposed of in the St Albans area annually and in 2021 this is likely to have been around only 60,000 sq. ft, with two deals making up a good proportion of this.
With Omicron hopefully subsiding and Spring and Summer to look forward to, where Covid is less prevalent, it is expected that the office market will rebound.
Matt Bowen, Director at Aitchison Raffety, commented:
"There are a considerable number of companies that would like to make a move and hopefully will begin to have the confidence to do this. There is therefore a good level of optimism that 2022 could be a busy year for office transactions. Rents and prices, even throughout 2021, have remained stable and so with a busy transactional year, it may be that office rents and prices increase in 2022. There are factors that could still continue to knock confidence, however, there are certainly some positive sentiments and inquiries beginning to come in."
To speak to our Commercial Agency team call 01727 843 232 or drop us a message to contact us.
---