Since an employee buyout in October 2021, our Executive Board is accountable to the Aitchison Raffety Employee Ownership Trust which ensures that our employees, or co-owners, remain at the heart of decision making. The Executive Board also works with each Head of Division to ensure that our company strategy and objectives are achieved, and that Aitchison Raffety's company values are maintained.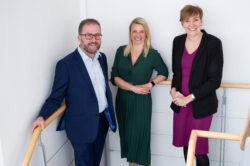 Philip Waite – Managing Director
Philip joined the company in 1997 and has over 30 years' experience in property as well as systems and people management. As a chartered surveyor he specialises in valuations for development and investment within the education and healthcare sectors. Philip previously headed the company's Western Regional Office as well as AR's Healthcare and Education teams and became Group Operations Director in October 2015. He was appointed Managing Director in October 2020.
Lottie Bonney – Finance Director
Lottie joined the company in June 2020 and has almost 20 years' experience of financial management within consultancy businesses. As a qualified chartered management accountant she has a proven track record of financial and operational expertise, specifically focussed on performance improvement, efficiency and growth.
Gill Crowther – People Director
Gill joined Aitchison Raffety in January 2022 and has almost 30 years' experience in HR in a variety of industries, companies and as a consultant. As a fellow of the CIPD, Gill is a strategic HR leader with a passion for bringing out the best in Leaders and Managers and helping organisations meet their strategic goals through their people.